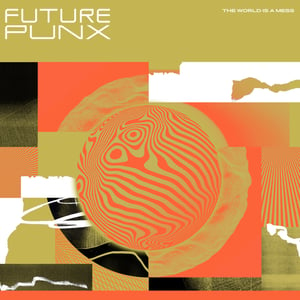 $

15.00
OUT NOW! VERY LIMITED QUANTITY of this the first release from Future Punx in nearly four years!
Since their formation in 2013, New York's Future Punx have earned a reputation as one of the city's most explosively exciting bands. Synergizing the most infectious sounds of post-punk, new wave, and mutant disco, the quartet coined a new genre with the title of their 2015 debut LP This Is Post-Wave. While drawing on timeless influences from DEVO, Talking Heads, and Orange Juice, the sensory overloading experience of their live performances usher in a new musical dawn. Combining mesmerizing visuals with propulsive electronic beats, scorching instrumentation, and never repeating set lists, they imagine a utopia where ravers, punks, and hippies can peacefully co-exist.
Three years after their last release, Future Punx return with The World's A Mess EP, recorded with Andrew Chugg (Pop. 1280, Pill, Crinkles) and set for release from Modern Sky USA. Starkly juxtaposed with the sci-fi fantasies of their earlier output, these songs are grounded firmly in the present political moment. While they still believes in the uniting power of getting down on the dance floor or ripping out a Robert Fripp style guitar solo, their lyrics now focus on acknowledging and battling white supremacy ("Society Implies") or toxic masculinity ("F Boys"), before closing with a perfectly fitting cover of X's "The World's A Mess, It's In My Kiss."
"These songs were written in response to the state of the world and our current political reality," explains singer/bassist Chris Pickering. "It's very current events oriented whereas everything we've done before was futurist sci-fi. Shit got so real and fucked up in the last couple of years that we can't even imagine a utopian future any more."
Though based in Brooklyn, the origins of Future Punx date back to the DIY punk scene of Denton, Texas with former members of Wax Museums, Teenage Cool Kids, and Fergus & Geronimo. When the latter band was rendered inactive by the rapid success of Andrew Savage's band Parquet Courts, the remaining members of Fergus & Geronimo regrouped as Future Punx. Before relocating to New York, Pickering also launched the label Dull Tools with Savage to release their own music alongside acclaimed artists such as PC Worship and Pill.
In 2016, Future Punx' duel frontmen Pickering and Jake Pepper (vocals/guitar) reset the band's line-up with the addition of powerhouse drummer Nicholas Martin and synth player/vocalist Heather Strange, who has been with the group since day one as their mastermind behind their light shows. Alongside sharing stages with Priests, Shopping, and Guerilla Toss, they have performed with NYC legends such as Suicide's Martin Rev and The Contortions' James Chance. Touring from house shows in Puerto Rico to anarchist punk squats in Europe to bars and basements across North America, the quartet has developed a unique ability to electrify any audience in their path.