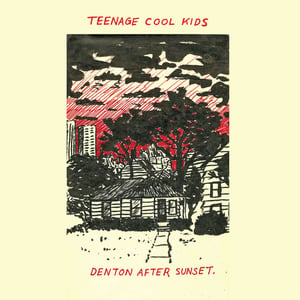 $

15.00
"This song, it don't take place in Texas."
If you've never been to Denton, Texas, you probably heard somewhere that it's a college town. And you'd be right. Technically. At first glance, if you find yourself there, drying out like smooth adobe under the dirty sun and drowning in the lazy hum of its flagging denizens, you'd be lucky to see anything that'd make you earmark it on a map.
Whether you know your geography or not, you don't need to be from Denton to appreciate one its trademark bands, Teenage Cool Kids. Their latest effort (and likely their last),Denton After Sunset is a swan song to the city its existence was mandated by. Recorded at the end of a three month tour of North America and Europe, it should come as no surprise that the band's third long player feels older, while expectedly wiser. Lyricist and frontman Andrew Savage's lucid frankness is a stark but logical contrast from 2009'sForeign Lands.
Denton After Sunset is a whirling dervish of a record. Sonically, a Dear John letter from a departing lover that explains why things just aren't working out. With the first snaking, discordant melodies of the album's title track, Denton After Sunset begins its nine stop journey with the same charming--if whimsical--pop sensibility that Teenage Cool Kids have made a hallmark. One could say the setting of the album is certainly Denton, yet you have to wonder whether the band members' minds weren't somewhere else as the time. "This song it don't take place in Texas, it's in a landlocked type of state," croons Savage. As if speeding on the interstate in the back seat of a Volvo, if not frozen on the shelf at a grocery store.
Denton After Sunset is the change you get back after spending the first quarter of your life trying to figure out who you are and it's the devil knocking at your door reminding you you can't turn back.