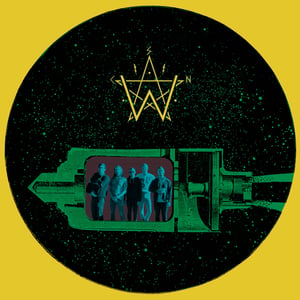 $

9.00 - On Sale
ALL ORDER WILL SHIP OUT FOR DELIVERY ON JUNE 9th
Where does the time go? As I write this Wiccans has been a band for eight years now. This is confirmed by a YouTube clip from a Denton house show, uploaded in March 2009. I'm playing a white strat and wearing a cardigan sweater, therein fulfilling the unspoken rule in Wiccans of looking as not-punk as possible. All these years later, the origins of this band are hazy to me, since I'm now more of a fan than an ex-member, so I consult MRR #381 where Payton Green explains, "I had been in hardcore bands always, and Andrew (who's in Parquet Courts now) and I were driving home from a show in Dallas. We'd been talking about doing a hardcore band since we were like seventeen or eighteen together. Andrew already had the name."
"I became involved because they thought I looked like a singer or something," adds Adam Cahoon, a sweet teddy bear of a man that turns into barking lunatic behind a microphone. The original lineup was Payton Green, Adam Cahoun, Harpal Assi, Gregory Rutherford and myself. We played house shows, we recorded a 7" and wrote as many songs as we could together, our time being divided by bands like Orange Cokes, Wax Museums, Bad Sports, Teenage Cool Kids just to name a few. And then I made the move to New York.
But that truly was only the beginning for Wiccans. The Teenage Cults 7", got a lot of attention, and my friend and ex-bandmate Daniel Zeigler stepped in to fill my shoes on guitar. The band started touring and writing new songs together and becoming a well-oiled hardcore machine. The reputation as an amazing live band was now established outside of Denton. In New York, in Nashville and in Detroit. The band release Skullduggery, the first LP. They toured like madmen, then Daniel leaves the band and is replaced by Shea Brooks. Harpal and Adam leave Denton for Austin and Payton for Oklahoma City, but despite geographic distance and membership in roughly a dozen other bands, Wiccans is able to release a second album, Field II, and tour.
So now it's 2017. Wiccans members now all live in Austin they are unveiling their third full-length, Sailing a Crazy Ship. From the onset, the band made it a priority to actively avoid trends within the hardcore punk scene. Wiccans have always been the band that mysterious guys and dangly-earring, switchblade dorks wished they were in. Fads come and go, but creativity and transparency are timeless, and never before has this been so evident than on Sailing a Crazy Ship. Payton Green's talent for writing inspiring guitar lines has never been sharper (see the maddeningly catchy riff on 'Under the Sun'), and he and Shea come together as a single solid force on this record. Songwriting chops are at an all-time high for the band. I've always admired this Wiccans' ability to eschew the predictable "now we do a breakdown" structure of American hardcore. They are fucking with structure, as much as with genre. At times on Sailing I'm hearing just as much inspiration from Thin Lizzy and Roxy Music than I do Poison Idea or Negative Approach. Recorded by Denton legends Mark Ryan and Jeff Burke (of Marked Men), the nine tracks are fast and ferocious, lacking the slow dirges of previous full-lengths. The boys are sailing fast, but maintaining complete control over their ship. The title track's intro gives listeners the uncertain, cautious sensation of a vessel lifting off, but a galloping pogo beat confirms that Wiccans have reached outer space, and are cutting through the cosmos at light-speed.
This band gives me hope that hardcore can still be inventive and creative, while staying true to being what it is: angry, destructive music. Basically this is the best Wiccans record yet, and you'd be a fool not to pick it up.
-A. Savage